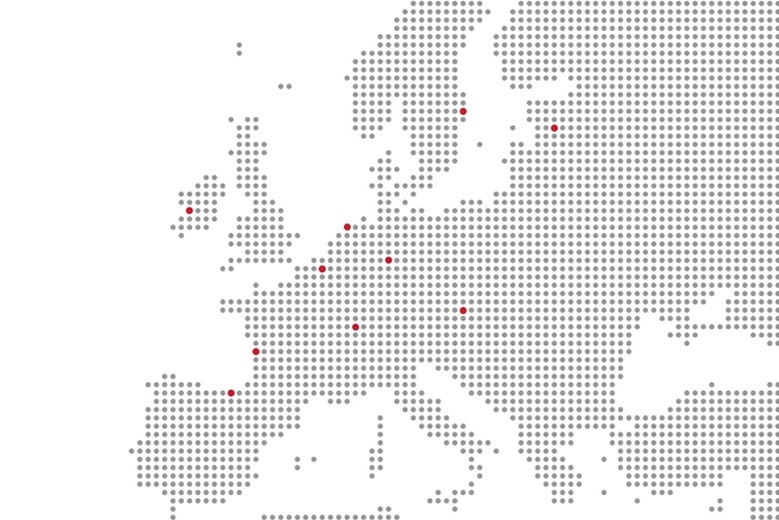 ENLIGHT stands for European university Network to promote equitable quality of Life, sustaInability and Global engagement through Higher education Transformation
WHO? ENLIGHT brings together nine comprehensive, research-intensive universities from nine European countries (Belgium, Estonia, France, Germany, Ireland, Netherlands, Slovakia, Spain, Sweden), training over 300,000 learners per year and sharing a deep commitment to their social responsibility.
[Read more about the ENLIGHT partners]
OUR MISSION is to contribute to the fundamental transformation of European Higher Education that empowers learners as globally engaged citizens with state-of-the-art knowledge, skills, and innovation potential to tackle major societal transitions and to promote equitable quality of life and sustainability. To this end, ENLIGHT will establish the foundations of an integrated European University System with free movement of students and staff and sharing of resources that gradually links the structures of quality assurance, international outreach and global engagement, talent recruitment and investment in large research infrastructure.
[Read more about our mission]
Like a lighthouse guiding sailors to shore, the ENLIGHT alliance will guide students to become lifelong learners and agents-of-change ready to tackle the challenges of tomorrow.
FLAGSHIP AREAS - ENLIGHT strives to transform the way in which we address global challenges by developing new models and methodologies for education and research adapted to the complex sustainability issues that cities and communities face today, focusing on five chosen flagship areas:
Health and well-being
Digital revolution and Impact of digitalisation
Climate change
Energy and Circular economy
Equity
[Read more about our flagship areas]
ASSOCIATED PARTNERS - ENLIGHT's universities are situated in metropolitan hubs, political and financial capitals, as well as small cities representing the urban-rural interface. In total, ENLIGHT serves over 5.5M inhabitants with 11 official languages and a strong intercultural diversity. Whatever their size, the surrounding cities and regions are the focal point of major complex societal challenges, which involve complex trade-offs between technical, political and social interests. Therefore, the respective cities and regions are important Associated Partners of the ENLIGHT network. They play a central role in the development of learning formats and research activities around real-life challenges that emerge in the local contexts. ENLIGHT will use its local environments (cities and regions) across Europe as living laboratories for (lifelong) learning and research to address key UN Sustainable Development Goals in health and well-being, digital transformation, climate change, energy and social inequalities.
[Read more about our Associated Partners]
THE LEARNING EXPERIENCE - ENLIGHT proposes to develop a new higher education competence framework based on following principles: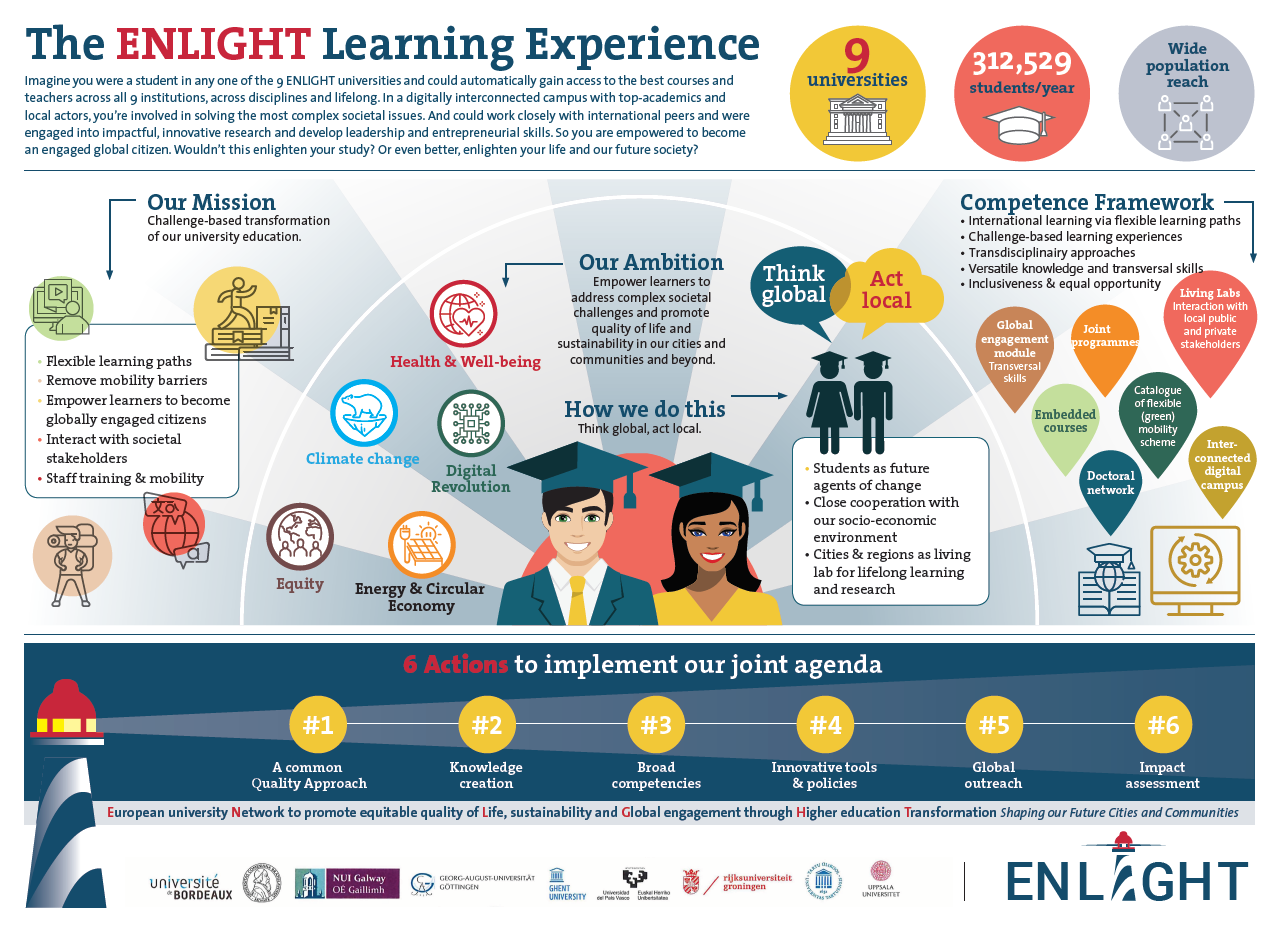 International learning via flexible international learning paths (combination of multiple short and longer virtual and physical learning experiences in different countries);
Research-oriented, challenge-based learning experiences around open-ended and real-world problems in cooperation with social and economic actors (living labs, cooperative learning);
Transdisciplinarity, combining multiple disciplinary approaches with social perspectives;
Versatility, uniting scientific knowledge with transversal skills such as intercultural awareness, inclusive leadership, and multilingualism.


ACTIONS In order to develop this competence framework ENLIGHT will pilot the following actions:
Develop a quality culture through a common Quality Approach enabling automatic recognition of study periods across ENLIGHT as the basis of a European University System;
Develop a co-creation (HEI + regional actors) methodology to define the subject specific competences and knowledge skills students need, in order to tackle the defined challenges;
Foster generic competences and global engagement among students and create know-how for embedding language bridging skills, diversity awareness, leadership and entrepreneurial skills into our curricula;
Develop the structural and technical framework for inclusive, seamless and green mobility, and provide the tools for flexible learning;
Develop models for a structural dialogue with local, European and global stakeholders;
Develop a comprehensive methodology to measure the impact of the ENLIGHT competence framework on learners and their socio-economic environment.
WITHIN FIVE YEARS ENLIGHT will sustain and extend the actions of the initial 3-year period, and gradually embed the methodology to establish such competence frameworks in the ENLIGHT universities. This will form the basis to explore the steps to establish ENLIGHT by 2030 as an integrated European University System with no barriers for learning, teaching and cooperating across all levels of the ENLIGHT community. It will integrate quality assurance, international outreach and global engagement, talent recruitment and investments in large research infrastructure. In this way, ENLIGHT will be a role model for the transformation of HEIs in Europe.
The achievement of the pilots will be transposed to new challenges and contexts, and will lead to new research and innovation synergies and European funded projects. ENLIGHT programmes will result in several thousands of ENLIGHT ALUMNI who will disseminate European values, challenge-based approaches, and high-level research outputs across Europe and beyond.